Web Design Cheshire UK
JJ Web Design offers a professional website design service for small businesses, groups and organisations wishing to have a presence on the world wide web.
We design web sites with the emphasis on simple, clean-cut designs which are easy for your visitors to navigate round and to provide them with the information they need as quickly as possible in order to turn them into buying customers.
Research shows that visitors need to find what they require within 3 clicks and your customers' needs are at the forefront of our minds when designing your website. By creating professional but simple web design, we meet the criteria with search engines such as Google for achieving high positioning in the search pages.

Where do we start?
At the
FREE
initial consultation, we find out as much as we can about you and your company's background. First impressions count and by understanding your company's ethos, we can personalise your website to reflect your company's image and values and compliment your business.

Good website design
Good website design needn't be complicated.
Flashing lights and dramatic graphics are not going to turn your visitors into customers. These types of websites are difficult for search engines to read and often take a while to download. Search engines do not like this – their aim is to present visitors with appropriate websites that meet strict standards - accessibility and download time at the top of the list along with relevancy.

Internet visitors are impatient and will not wait for your exotic graphic based website to download, however eye-catching it looks!
People searching the Internet do not read websites the same way as they read newspapers and books – they skim through until something catches their eye.
If they can't find what they want quickly, they will click away from your website in search of another one that can provide what they are looking for.

Often, the best website design is an easy website design.

We will continue to work closely with you during the creation of your website to ensure satisfaction every step of the way.
Our websites designs are unique to each company, whilst maintaining a good design principal to please all search engines.
See our website design examples here

Website content
Google rewards relevant, unique content with high rankings.

Your website should give the information to your visitors in a precise and easy to read manner. Working their way round your website should be a pleasant experience for them, with everything they need only a couple of clicks away.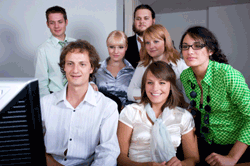 They need to be encouraged to stay on your website and by providing the information they need as well as the service they require, they have no need to go elsewhere.
At JJ Web Design, we understand writing content for your website may seem daunting and time consuming. We offer advice on what to write and how to write it. Download our free guide on "How to Write Website Content"

Images
'A picture paints a thousand words' as the saying goes and this is true in
good website design
.
Images within your website will help to create the 'image' you want to portray to your visitors.
At
JJ Web Design
, we use professional software for graphics and images to ensure your images are shown to the best effect and to make sure your website can download the images quickly.
We can also provide professional images from our extensive image collection to further enhance your website.

Promoting your website through Web Optimisation
Once you website has been created, we then work on getting your website found by the search engines and our aim is to achieve high rankings for your site in the quickest time possible.
This is achieved through our
SEO/Web Optimisation Service
and is built up over a period of time to ensure your website is recognised by Google as an authority in your industry. This ensures you maintain high rankings whilst further developing your website.